Tuesday, 26 April 2016 19:31
Come join us at one of two, yes TWO, wonderful Walks for the Animals to benefit the Animal Welfare Leagues of Arlington and Alexandria! Both events are important fundraisers, and both dog-friendly events feature vendors, goodies, demonstrations, and kid-friendly activities.
Sunday, May 1: Alexandria's Walk for Animals
Location: Alexandria's Old Town Market Square
Time: 9:00am - 12:00pm
Features: "Lost animal search" for kids to participate on the walk route. Visit our WOOFS! booth for tricks and nosework demos, and learn to teach your dog some new tricks!
We have FIVE walk registrations available for Team WOOFS! Contact us to participate!

Saturday, May 8: Arlington's Walk for the Animals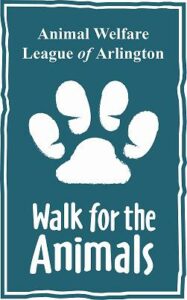 Location: Bluemont Park
Time: 9:30am - 12:30pm
Features: All pre-registered walkers receive a Walk T-shirt and participating dogs get a Walk bandana. Visit our WOOFS! booth and come watch our agility demo!
This event also features WOOFS! foster momma Harlie and her 11 adorable puppies. We have FIVE walk registrations available -- come support #TeamHarlie! Contact us to participate.
News
Rewards-Based Only
At WOOFS! we use only positive reinforcement training methods grounded in the latest canine behavioral science. This dog-friendly approach is endorsed by the American Veterinary Society of Animal Behaviorists, the ASPCA, and every other reputable animal organization in the country.